What Is biogas upgrading?
Upgraded biogas, or biomethane, is a versatile energy source. Biomethane can help curb greenhouse gas emissions as the reliance on burning fossil fuels for energy declines.
We have developed next-generation of water- and amine-based biogas upgraders that enable biogas plants to be operated more efficiently and with the option of converting the biogas stream not only into natural gas grid specification methane but also into high-value products such as liquid biomethane and biogenic-CO2.
We are one of few that delivers both water- and amine-based biogas upgrading solutions. And we are constantly expanding our portfolio with new technologies. At the moment, we have numerous patent-pending biogas upgrading technologies including our trademarked SlipRec™ solution that significantly reduces methane slip on water-based upgraders.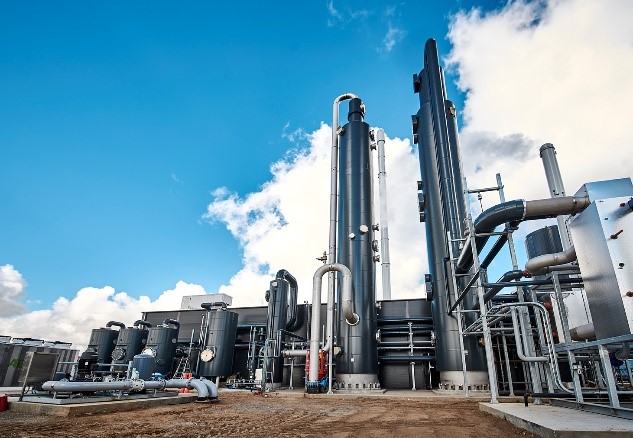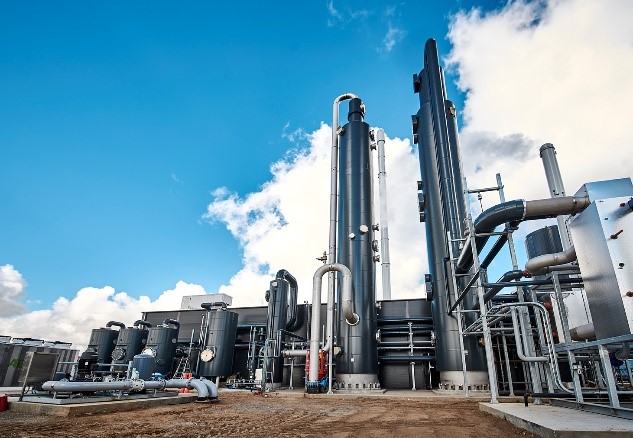 Range: 1000 – 10.000 Nm3
Heat: 500-700 W/Nm3
Power Consumption: 100-130 W/Nm3
Water consumption: 0-2 L/Nm3 biogas
Heat recovery: Up to 80-90%
Our amine biogas upgraders are the most advanced and efficient way to upgrade biogas to biomethane. With a capture rate of 99.9%, our solution ensures that your plant can produce the highest quality biomethane possible.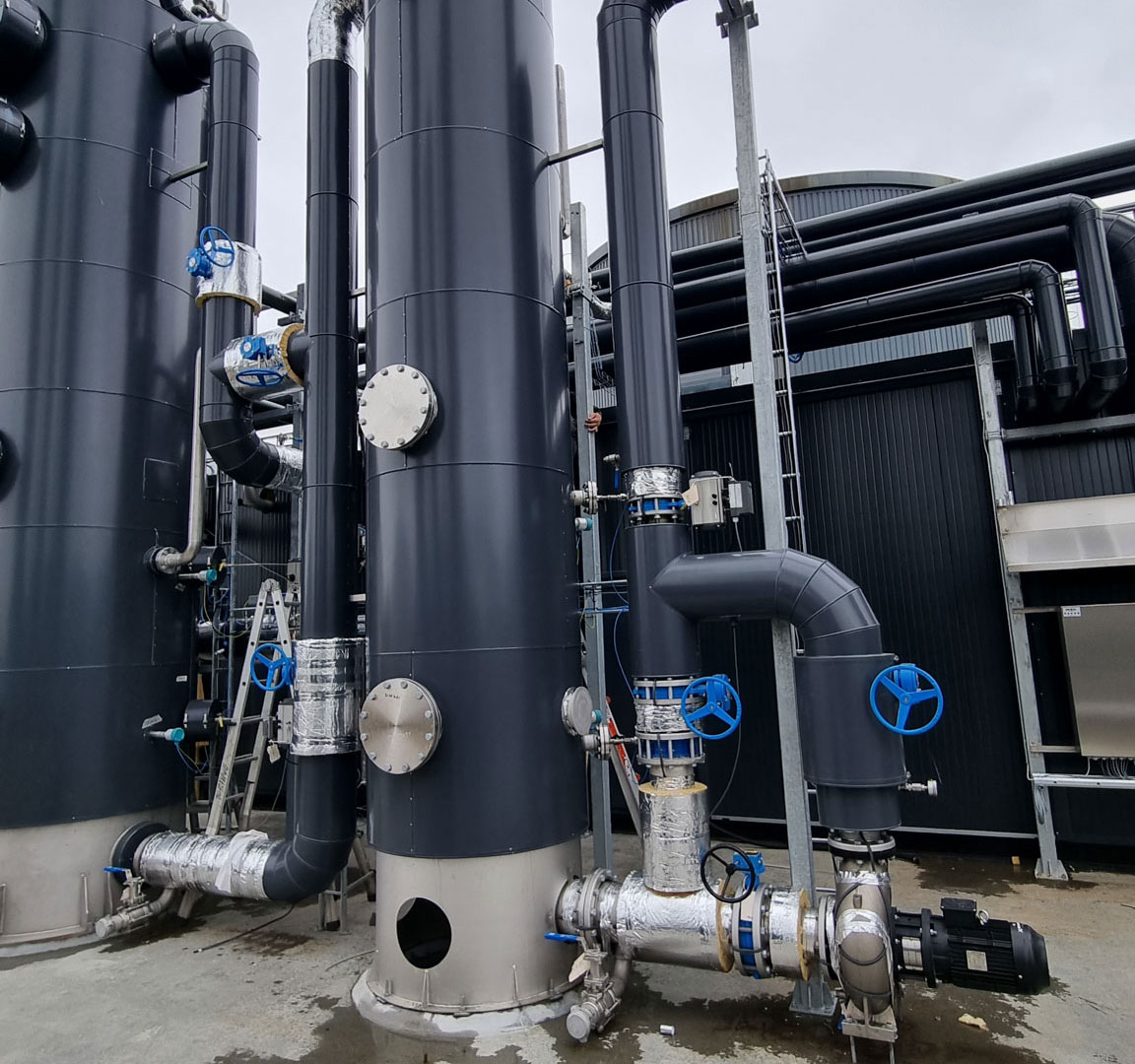 Range: 1000 – 10.000 Nm3
Heat: 0  
Power Consumption: 200-300 W/Nm3 biogas
Water: 0-5 L/Nm3 biogas
Our new upgrading solution for biogas plants is a full electrical solution that converts approx. 99,9% of the biogas to biomethane.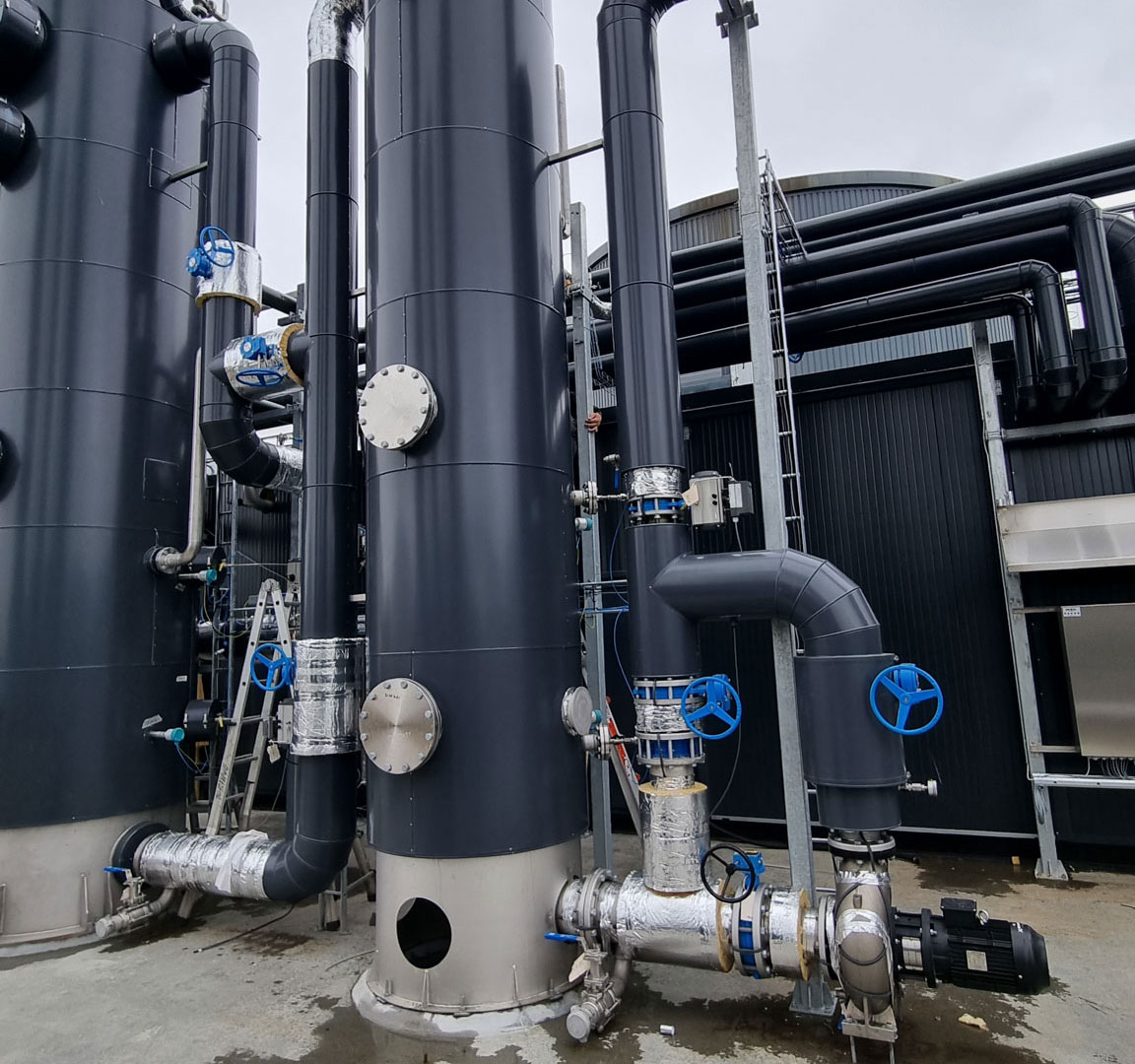 OUR PORTFOLIO OF SOLUTIONS
Water scrubbing: Our water scrubber solution is built on proven technology and improved with our patent-pending SlipRec solution. Thereby, you ensure a significantly reduced methane slip ensuring the methane is safely distributed to the grid.
Amine scrubbing: Our amine scrubber is a robust, efficient biogas upgrader with the best possible economy of scale. No expensive VOC and H2S removal are required upstream, and you get the best options for CO2, LBG and other downstream utilization technologies.
SlipRec™: Our patent pending SlipRec solution significantly reduces the methane slip in your existing water scrubber-based biogas upgrader. We ensure a significant increase in your plant capacity, without affecting the power consumption per Nm3 of biomethane. This allows for the plant to become more robust and resilient to fluctuations in the raw gas.
Biogenic CO2: Most upgrading technologies can utilize the CO2 value stream from biogas. Biogenic CO2 is considered carbon negative and can be utilized for several purposes like food grade, industrial grade, P-t-X, or sequestration.
In most cases upgrading biogas to biomethane for the natural gas grid is the most financially attractive option for biogas plant owners.
In addition to the methane stream, there is a significant CO2 stream from biogas upgraders. Traditionally this has been viewed as a potential liability, but with the current investments in Power-to-X technologies, there will be a substantial need for CO2 from green sources such as biogas.
Biomethane from our upgraders can also be liquefied (as CBG or LBG) and can, for instance, be used in the transportation sector (trucks, heavy machinery, ships).
You can learn more about our bio-LNG solutions HERE
Bio-LNG is a biofuel made by processing organic waste flows, such as organic household and industrial waste, manure, and sewage sludge. Biomethane liquefaction is a value stream that can be obtained once methane is separated from carbon dioxide and other critical components, and then liquefied at -160℃. This is a highly complex process, however, you increase the energy density 600 times which makes the biofuel ideal for heavy-duty and maritime transport.
BIOGAS UPGRADING. SUCCESFULLY PROVEN.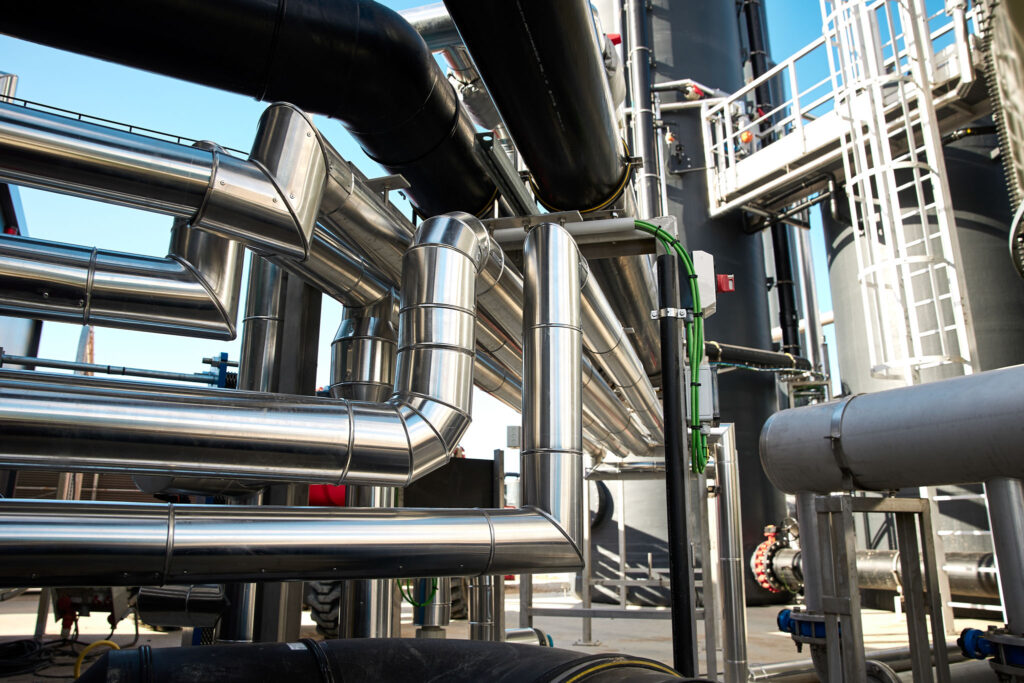 Biogas upgrading
The huge biogas plant installed in Kliplev, Denmark, is one of the larger biogas plants in the world
Read More »